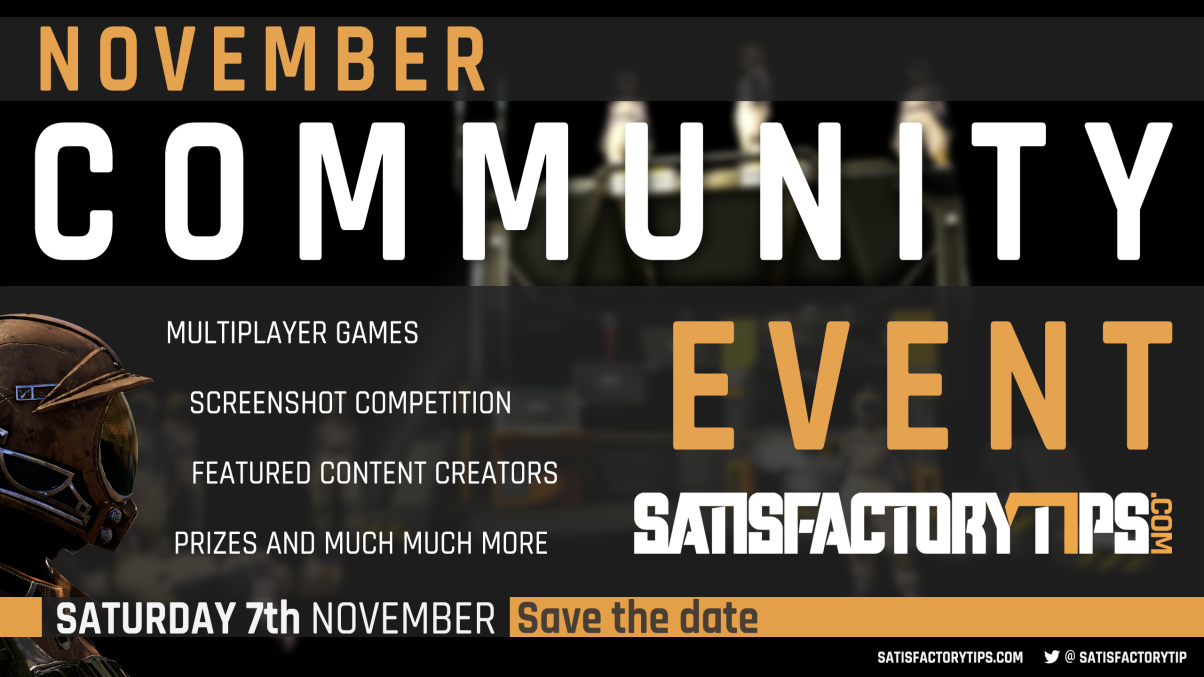 Satisfactorytips Official November Community Event
Epic Steam EA
We want to bring the Satisfactory community together through regular monthly events. Today we present to you the first snippets of information for the upcoming November 7th event. Check back for more information.
TotalXclipse 2095 2020-11-07
Satisfactorytips Community Event #01

Event Details
Date: Saturday 7th November
Time: 6pm GMT
Where: twitch.tv/braindg

Please note that we will be regularly updating this post with more information.
---
Event Overview
Welcome to the first of our community events, in this event you can expect the following: an action-packed selection of games and courses with many prizes in the coffers up for grabs, and of course, lashings of creative nonsense.

The current selection of competitions are as follows:

Build Battle
Prize: 1st £10
Test your creative ingenuity whilst competing against other build battle contestants and crowned Fiscit Master Builder. You will be challenged to create such wonders as a tug boat, a robot or even a toilet!
---

Poke's Pad-Prix
Prize: 1st £25
Think you have what it takes to drive full throttle in an elimination time trial that wants to kill you? This Race by DontPokeJosh has Wall climbs, jump pads, sheer drops and multiplayer lag to test your skills. Fastest wins! If anyone makes it that far! lets see how far you get before being thrown off.
---
Ninja Warrior Misfits
Prize: 1st £10
You've worked the treadmill and hit the gym, but how would you fare against a selection of ninja warrior misfits! Fall guys Satisfactory style, race to get the golden nut or take a detour and grab some equipment to give you the upper hand.


---
Madness Labyrinth
Prize: £10 Steam Voucher
Brought to you by the maze maker that drove many of us insane (as well as 4 contestants to the hospital!) Imachicken29 presents The Labyrinth – just don't get lost you're not the only one in there searching for the golden nut.
---
Prize: 1st £25
The world is a cruel place, crueller when left in the hands of Samueras. If you think you have what it takes to survive, join the tournament- last man surviving goes through…. Be careful who you kill, there may be an explosive consequence.
---
Celebrity Build Battle
Prize: 1st Bragging rights
Conciliation Prize £10
Laugh as some of your favourite Satisfactory Celebs stress out trying to create a masterpiece and then vote for the coolest design you see! Bonus points for the best-placed nut!

---
Community Screenshot Showcase (Entrance Now Closed)
Prize Pool: £50
Community showcase will present a selection of creations from our wonderfully talented community - Keep an eye out on here for more information.
---
The RunestoneGaming giveaway
Prize: Copy of satisfactory
Thanks to RunestoneGaming we have a free copy of satisfactory to give away. Keep an eye out on twitter and all you have to do is retweet the runestone tweet on @satisfactorytip - winner will be announced at the end of the event.
---
Event Rules
Our top priority is to ensure that you are part of a safe and enjoyable event. Please keep in mind the following rules when participating in our community.
Do not grief be considerate to your fellow pioneers, we encourage treating everybody equally and with respect
When participating in our community events please remain conscious of your behaviour, considering the audience watching and respecting your fellow contestants at all times
Respect others in-game work and property, do not delete other people's creations without permission.
If someone is asking you to leave them alone, leave them alone.
Respect any rules set by the session owner.

Consequences
There are times when we deem actions to be examples of Gross Misconduct, these include but are not exclusive to the following, Threatening behaviour, Racism, Sexual Harassment and Abuse. In times when these have been identified, we will remove you from the server.
---
We're very proud to have launched this website and hope you have found the guide both helpful and enjoyable. We look forward to updating the site weekly with new guides and layouts.
If you have a particular layout or guide you'd be interested in sharing with the community, we'd gladly give you the chance to be an author on our site, get in touch with us.