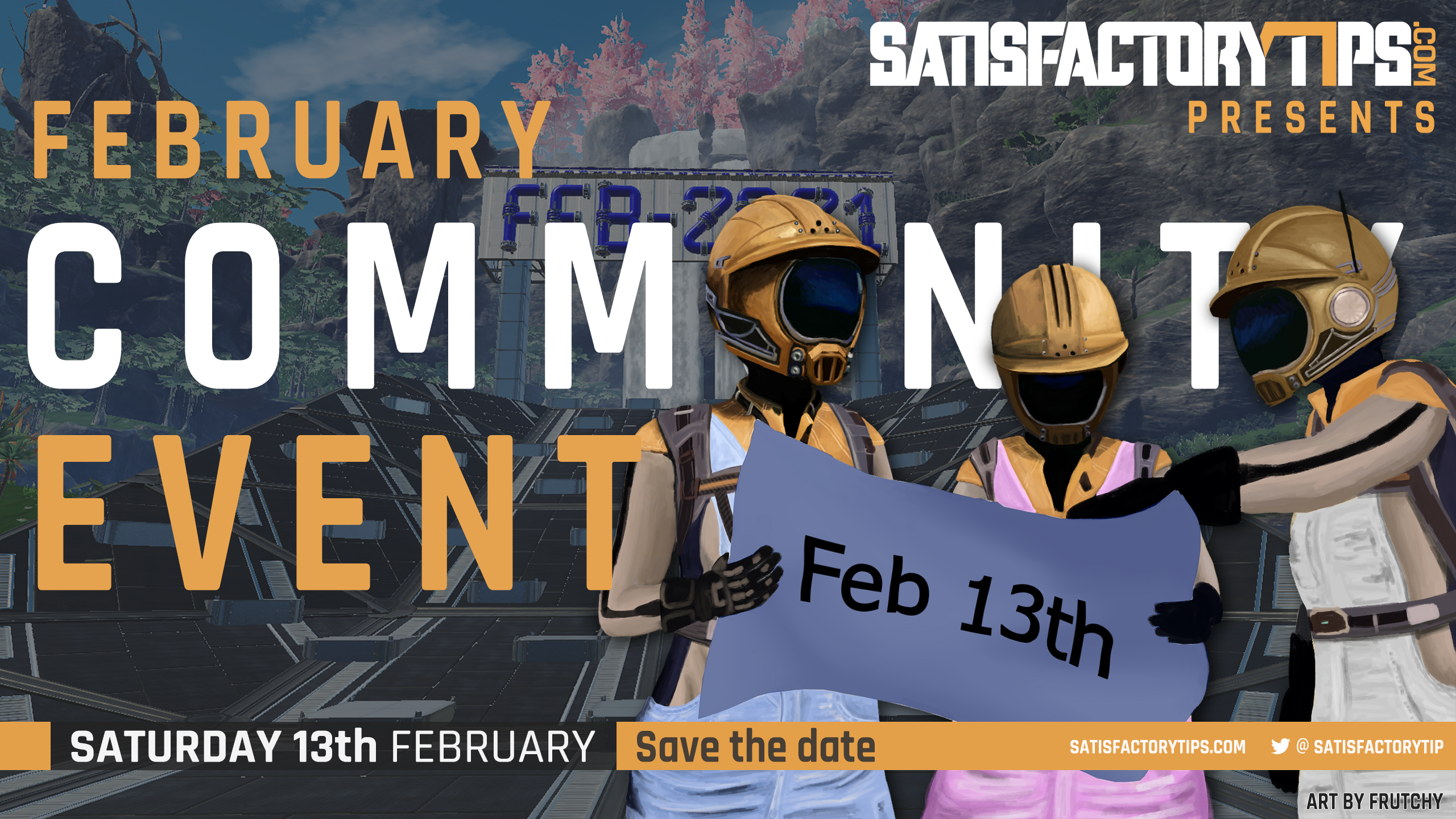 Satisfactorytips Community Event #02
Epic Steam EA
We want to bring the Satisfactory community together through regular monthly events. After a couple of months, we're back with our second Event!
BraindG 1399 2021-02-07
Satisfactorytips Community Event #02
Event Details
Date: Saturday 13th February
Time: 6pm GMT
Where: https://www.twitch.tv/satisfactorytips
---
Event Overview
Welcome to our community events, in our February event you can expect the following: A full goodie bag of prizes, action packed games and of course, lashings of creative nonsense.

Event Schedule:
Xpload
Prizes: 1st £10 2nd £4
Players: 8

Are you able to blast your way through the obstacles and burst through the mini mazes whilst building your way over the videos to be the first to reach the end without xploading in frustration!
Stop When You Drop
Prizes: 1st £10, 2nd £4,
Players: 20

Some have the brains, others the skills, but for this you need just dumb luck. The classical game, musical chairs has been given a renovation. Last pioneer standing on a platform wins.

TOP SECRET
Prizes: 1st £25, 2nd £10
Players: R̶E̶D̶A̶C̶T̶E̶D̶
Blurb: R̶E̶D̶A̶C̶T̶E̶D̶
Brain's Build Battle
Prizes: 1st £10, 2nd £4
Players: 8
Test your creative ingenuity whilst competing against other build battle contestants and crowned Fiscit Master Builder. You will be challenged to create such wonders as a tugboat, a robot or even a toilet!
Madness Labyrinth
Prize: 1st £10, 2nd £4
Players: 8
Brought to you by the maze maker that drove many of us insane (as well as 4 contestants to the hospital!) Imachicken29 presents The Labyrinth – just don't get lost you're not the only one in there searching for the golden nut.
Community Screenshot Showcase
Prize: £10 for each Theme Winner and extra £10 for overall winner
See here for more details https://www.satisfactorytips.com/community-events/community-screenshot-competition-feb
The Big Tip giveaway
Prize: Copy of Satisfactory
Thanks to @SatisfactoryAF we have a free copy of satisfactory to give away. Keep an eye out on twitter and all you have to do is retweet the big tip giveaway tweet on @satisfactorytip - winner will be announced at the end of the event.
---
Event Rules
Our top priority is to ensure that you are part of a safe and enjoyable event. Please keep in mind the following rules when participating in our community.
Do not grief be considerate to your fellow pioneers, we encourage treating everybody equally and with respect
When participating in our community events please remain conscious of of your behaviour, considering the audience watching and respecting your fellow contestants at all times
Respect others ingame work and property, do not delete other people's creations without permission.
If someone is asking you to leave them alone, leave them alone.
Respect any rules set by the session owner.

Consequences
There are times when we deem actions to be examples of Gross Misconduct, these include but are not exclusive to the following, Threatening behaviour, Racism, Sexual Harassment and Abuse. In times when these have been identified we will remove you from the server.
---
We're very proud to have launched this website and hope you have found the guide both helpful and enjoyable. We look forward to updating the site weekly with new guides and layouts.
If you have a particular layout or guide you'd be interested in sharing with the community, we'd gladly give you the chance to be an author on our site, get in touch with us.